5 Common Types of Cabinet Hinges For Purchasing
By:Keahardware
Date:2022/08/18
When it comes to hinge types, the options may seem endless, but the type of cabinet door hardware hinges and door styles you work with will narrow your options significantly. From there, you can start tweaking special features, styles, and finishes to suit your needs, personal preferences, and home style. Concealed cabinet door hinges are widely used in home life, based on the type of cabinet and door style, there are different types of hinges on the market for people to choose from. The applications such as kitchen cabinet hinges, bathroom cabinet hinges, bedroom cabinet hinges etc. Before purchasing kitchen cupboard hinges, you need to take a look at your cabinet design and consider your door overlay style to determine the hinge required.
Although there are different types of furniture cabinet hinges in the hardware market now, you also need first to know the basic difference between them. Unlike regular hinges, concealed hinges don't reveal any imperfections in the measurements of the cabinet. They are often used in combination with faux hinges. Invisible cabinet hinges are also available. The type you choose should depend on your kitchen design and style. These hinges have different functions. Listed below are some of the main types of cabinet hinges.
How to Choose the Right Cabinet Hinge
1. Consider the Door Pocket Style
The type of cabinet door hardware hinges you use should match the style of cabinet doors you are building so the doors can be installed with the proper clearance. Door covers come in two main styles: inset doors and sleeve doors. Covered doors are partially and fully overlay. Check your cabinet design to determine which one you are using.
Shown: The door is flush and flush with the frame that surrounds the entire door. For inset doors, the most common hinges are butt or surface mount hinges, and inset Euros.
Full Overlay: Also known as single cover, full cover doors cover the entire cabinet opening when closed, and when the door is opened, the interior wooden edge of the cabinet is exposed. For full-coverage doors, the most common hinges are full-coverage and part-round, flush-mount, surface-mount, and European full-coverage.
Partial Overlay: In partial cover, the cabinet door partially covers the cabinet body when the door is closed, while the wooden edge inside the cabinet door is exposed when the door is open. For partial cover doors, the most common hinges are full and partial wraparound hinges, flush mount, surface mount and European partial cover.
2. Decide if You Want to Hide or Expose the Hinge
Exposed hinges, such as butt hinges, are visible and usually intentional. They are extremely common in traditional American cabinetry and vintage styles. Concealed hinges, on the other hand, offer a clean look and a more contemporary style.
3. Choose Surface Mount or Mortise
Surface mount hinges do exactly what they sound like - they sit on the surface of the cabinet material and require no drilling or drilling. However, mortise hinges are recessed into the cabinet and require drilling to install.
4. Decide if You Need Motor Function
Motion features such as soft-close hinges are growing in popularity as they reduce slamming noise and make closing doors as easy as running a tap, even with two hands in the kitchen. Here are the most popular sports features:
Soft Close: Prevents the door from slamming by slowly pulling the door.
Self-closing: Available in some hidden hinges. Similar to a soft-close hinge, the user can pull the door with less effort.
Self-opening: simply press the front of the drawer to open the door. Works well with contemporary styles without exterior cabinet hardware.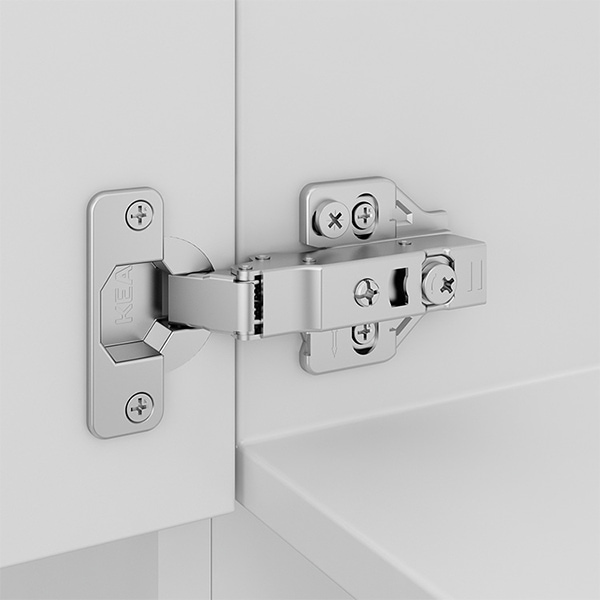 Do you have "face frame" or "frameless" cabinets? The first step in choosing the right furniture cabinet hinges for your cabinets is to determine if you have framed or frameless cabinets. Most standard cabinets in the United States are framed. They are called "face frames" because there is a wooden frame in front of the cabinet. In this style of cabinets, the cabinet door hardware hinges are attached to this frame. Face frame hinges are the most common type of cabinet hinges. They fit into the cabinet's back and are usually stainless steel or brushed steel. These types of furniture cabinet hinges are great for rooms with higher moisture levels because they won't rust. Color isn't usually a consideration when choosing this type of hinge, since the hinges will only be seen when the cabinet is open. However, if you're going for a certain color, you might want to choose a different type. Frameless cabinets (also called European, Modern, or Slabs) have hinges that attach directly to the walls of the cabinet box.
Some Main Sorts of Door Overlay
There are two main styles of door overlay—overlay doors and inset doors. Overlay doors come in full overlay and half overlay.
1. Full Overlay
The cabinet door can fully cover the sideboard, which is outside of the cabinet body. Generally, concealed door hinge for full overlay will have a straight arm which allows the cabinet door edge to be completely in line with the edge of the side panel. Keahardware full overlay of cabinet hinge is a European-style hinge with a fully straight arm that is much more offset than a partial-coverage or recessed furniture cabinet hinges. This allows the door to completely cover the cabinet. Use them for full overlay doors.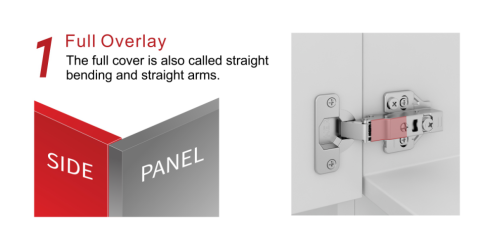 2. Half Overlay
The cabinet door covers half of the sideboard with the other half exposed. Concealed door hinge for half overlay has a bend in the arm, allowing two cabinet doors to use one sideboard. The half overlay hinge is very similar to the full overlay hinge, but allows the door to be mounted on either side of the center panel of the carcass, so that it covers only half of the carcass, allowing the second hinge to cover the other half. The half cover hinges will be bent at the arms allowing the edge of the cabinet door to cover half of the side panel, leaving the other side exposed. You will usually find this type of hinge in a bedroom closet.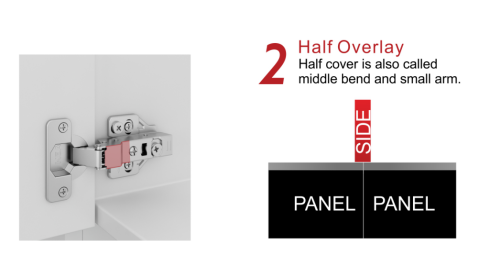 3. Inset Cabinet Hinge
The cabinet door does not cover the sideboard and it is hidden in the cabinet body, which is on the same level as the side panel. The inset concealed door hinge is normally with a large crank in the arm that can help the door set inside of the cabinet. Besides, Inset cabinet hinges are very different from semi-covered and full-overlay hinges. When the door is closed it sits inside the carcass, as appose to in front of, just like the full overlay/half overlay option. It has a large crank on the arm that allows the door to be inserted into the cabinet. You will usually find this special hinge on solid wood furniture. They will expose the wood frame around the cabinet door. They are also used for glass doors you usually see in kitchen cabinets.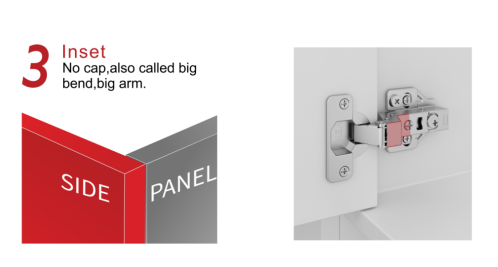 5 Common Types of Cabinet Hinges
1. Soft Close Cupboard Hinge
This kind of hinge with a damper in the arm or in the cup can prevent the door from slamming shut which can reduce noise and keep the home peaceful and quiet. Soft close cupboard hinges become more and more popular on the market because they can be a great help to avoid the cabinet from damage and increase the service life. If you want to add a soft close cupboard hinge to your kitchen cabinets, you must first determine which kind of cabinet you'll be replacing. If you're using European style hinges, you can change them with soft close ones. These furniture cabinet hinges have small pistons built into the hinge cup. They make your cabinet doors soft close with ease. If you'd like to add a soft close cupboard hinge to your kitchen cabinets, you must make sure your cabinet doors are at least 14 millimeters thick.
You can install soft close hinges in your cabinet doors by simply screwing them into the mounting plate. You need to make sure that they fit snugly in place, so they don't pop out when you close your cabinet doors. You can also use a rubber mallet to tap the hinge into place. The installation process is quick and easy, so you can finish your kitchen cabinets in no time. If you're unsure about installation, try a soft close hinge to make sure it fits your cabinets perfectly.
2. Self-closing Cabinet Hinge
Self closing cabinet hinges contain a small spring that brings the doors into contact with the cabinet. No need for much pressure to get the doors closed. Users can release their hands to do other things. Unlike soft close hinges, self-closing cabinet hinges are without noise dampening features, even if they may allow the doors to close easily but make a noise in the process. In the kitchen, self closing cabinet hinges are indispensable. This is a hinge designed to close a cabinet door after opening and releasing it. Self-closing cabinet hinges are convenient so you don't have to fill the door with your hands to close the door. Bathrooms, doors and gates also use self-closing hinges which can make your life easier. A basic self-closing cabinet hinge consists of two pieces of metal connected by pins that allow them to rotate against each other, allowing the door to open like a traditional hinge. However, for self-closing hinges, a spring is installed inside, and when pushed slightly, the hinges close to close the door.
3. 3D Adjustable Cabinet Door Hinge
The 3D adjustable door hinge is the ideal solution for high performance applications. Featuring low-friction bearings for smooth door opening, it offers guaranteed reliable, maintenancefree operation. This type of hinge has the liberty to make proper adjustments to your cabinet, which provides your cabinet doors with effortless installation. 3D adjustable cabinet door hinges allow horizontal & vertical adjustment of the distance between the door and side panels without unloading the door. If you are looking for a hinge for your cabinet doors, you should check out the 3D adjustable type. These hinges are great for cabinet doors that are heavy, and they will fit into your cabinet easily. They also offer the option to adjust both the horizontal and vertical pressure for a tighter or looser fit. These hinges also come with a lifetime warranty, so you don't have to worry about breaking them.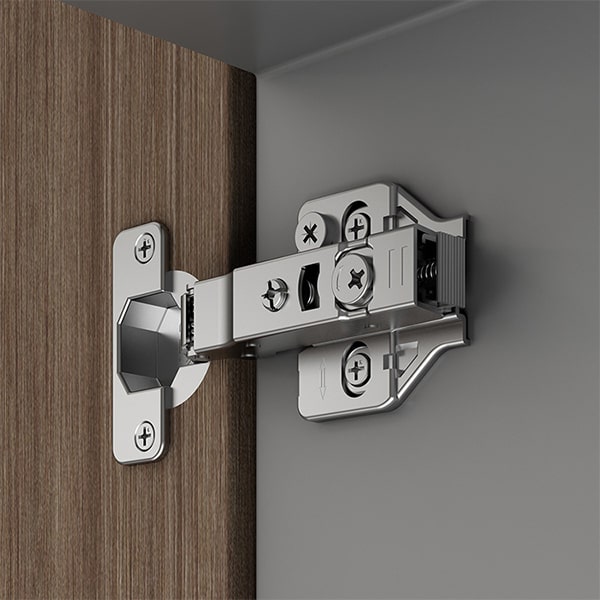 There are many different kinds of cabinet door hinges, so there are some options to consider. The most common ones are concealed, full overlay, and half overlay. Each type has its own set of benefits, but they all have one thing in common: a concealed hinge. They are a great choice for cabinet doors that are partially or fully covered by a sideboard. You can find these hinges in various sizes and styles, depending on what you want. One of the most appealing features of the 3D adjustable hinge is that they are easy to install, and they are easy to adjust. They are also maintenance-free, and don't require scheduled greasing. If you want a hinge that won't fall off, it offers a wide throw for laminate or glass doors.
4. Clip-on Cabinet Hinge
These cabinet hinges are with spring fastener in the hinge body, also called detachable door hinges. This kind of clip on cabinet hinges can allow the cabinet doors remove by gently pressing the spring fastener, which is easy to install and disassemble. Generally, KEA's concealed cabinet door hinges has two types, clip-on and slide-on. Clip-on hinges have a clip tab that snaps into a hole or slot in the base plate. They are used for more expensive cabinetry, while a slide-on hinge is typically used for more affordable furniture.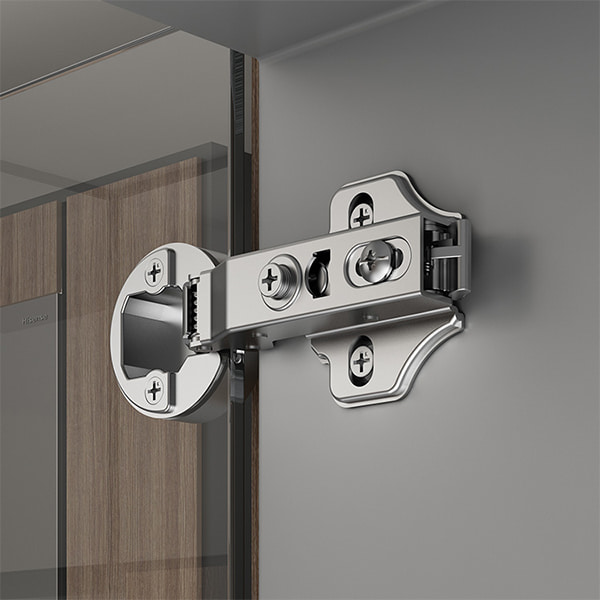 If you're looking for a concealed hinge, make sure it's made from quality materials. The hidden hinge also means that it won't reveal any screws or parts. Before buying a clip-on cabinet hinge, you'll need to measure the length of your door's overlay. To do this, lay a piece of tape on the face of the door (without a center divider) and measure from the tape's edge to the opening of the cabinet. Once you've got your measurements, you can choose the right style of cabinet hinge. For best results, choose the one that will fit your door.
5. Slide-on Cabinet Hinge
Slide on hinges, also known as screw on hinges, are a common style for cabinets. They are typically found in kitchens and bedrooms across Europe. This type of hinge is suitable for both overlay and frameless applications. These hinges make reopening and closing a door easy and convenient. These hinges can be used for any type of cabinet door and are typically concealed in the cabinet carcass. They slide onto a matching plate that is screwed to the carcass. These concealed hinges are suitable for any type of cabinet door, regardless of thickness. In order to install a concealed hinge, a 35mm or 26mm hole must be drilled in the cabinet door.
One of the benefits of slide-on hinges is that they are easy to install without tools. They are perfect for doors requiring several hinges. In addition to being easy to install, they are also easier to align than other types of hinges. In addition to being easy to install, these hinges are great for homes with children, as they do not require tools. Despite their easy installation, they will require you to make sure the door is level to avoid any possible misalignment.
What the Concrete Details of Cabinet Hinges in Home
Whether you're deciding to replace your entire kitchen cabinet or just one of the doors, you need to make sure your furniture cabinet hinges are secure and working properly. Fortunately, the best solution is to use a concealed hinge jig. It's important to use locking screws to secure your hinges to the cabinet. Failing to do this will cause your hinges to work loose or even work against each other. Next we will explain the best solution.
Bathroom Cabinet Hinges
Before you begin the installation of new bathroom cabinet hinges, it's important to note how to adjust the screws that secure the doors. This will ensure that the door is level, without drooping after installation. It's best to line up the screws before installing them, since you don't want to have to drill additional holes after the door has drooped. And, once you've installed the hinges, you'll need to line up the hinge arms as well. There are two types of hinges to choose from. As we mentioned above, the face frame hinges attach to a solid wood ledge that surrounds the front edge of the cabinet. Frameless hinges, on the other hand, attach directly to the cabinet box, and are ideal for cabinetry with heavy doors.
These hinges will help prevent the doors from sagging while opening and closing, and will also prevent the door from coming undone when closed. You can also use the bathroom cabinet hinges that wrap around. Wrap around hinges have one leaf that attaches to the back of the cabinet door, and the second leaf wraps around the frame of the cabinet. They are a great choice if you need to support heavy cabinet doors, and they won't look ugly on your bathroom cabinet. If you're not sure about which hinges are right for you, consider the size and style of the cabinet doors you plan to install.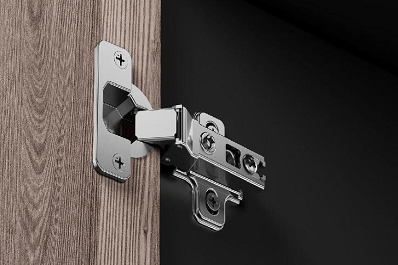 Bedroom Cabinet Hinges
There are several types of kitchen and bedroom cabinet hinges. There are surface mount hinges, which are usually used on doors that are not mounted on a frame. The hinges can be mounted on the inside of the door frame or on the back of the cabinet. These hinges are often used in combination with faux hinges. The key to finding the right hinge for your cabinet is knowing how the hinge works before installing it. First, you need to measure the door thickness. The thickness of the door should be at least 14 millimeters. Next, you need to determine the size of the mounting plate. The standard mounting plate is 15/16mm, but there are different sizes of mounting plates available. You can also use the same mounting plate for both bedroom cabinets and kitchen cabinet doors. Once you have determined the dimensions, you can install the hinge.
Before installing the hinges, make sure you choose the right style and type. Depending on the style of your cabinet, you can choose between two main types. The first type is called the partial overlay hinge. It fits flush within the cabinet opening while the second type is called the full overlay. Inset hinges are hidden from view, but can also be seen. Partial overlay hinges leave a gap of about an inch between the door and the face frame. Then, there are surface mount hinges that are attached directly to the door and do not require a hole.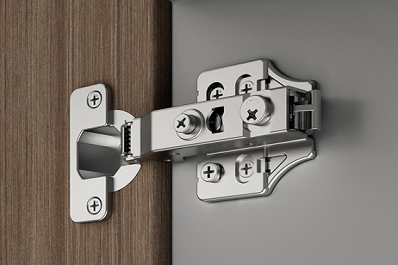 Kitchen Cabinet Hinges
Kitchen cabinet hinges provide smooth, quiet, and easy opening and closing of cabinet doors. They eliminate slamming and prevent accidents by preventing cabinet doors from falling open when closed. Furniture hinges are also designed to withstand heavy pressure and sudden impact. This makes them a great choice for modern designs that require no external hardware. Learn more about the various types of hinges and which is best for your needs. Butt hinges are one of the most common types of furniture cabinet hinges. They consist of two pivoting plates attached to each other with a pin. One is attached to the cabinet door while the other is attached to the cabinet frame. Because these hinges are not visible from the outside, they are often referred to as invisible hinges. These hinges attach to the inside of the cabinet door and frame, making them appear as if they're floating.
Traditional cabinet hinges are a popular choice, but there are also soft and living versions. While traditional hinges are durable, soft ones are flexible and provide easy swings. They're also great for making your furniture more comfortable. Regardless of what you choose, it's important to select the right type for your furniture. A quality hinge will not only add value to your home but will make using your cabinets a snap! When it comes to hinge types, the options can be a lot. After confirming your cabinet design and door overlay style, you can narrow your choices down based on the features and styles you need.
CONTACT US


GuangDong JinLi XiangXing Precision Metal Manufacturing Co., Ltd.
We are always providing our customers with reliable products and considerate services.
If you would like to keep touch with us directly, please go to contact us